Lodging a porting agreement application

To start the process of porting your existing number(s) over to VoIPcloud you will need to login to your customer portal and complete a porting application. Entering your username and password will allow you to enter the customer portal. Should you be in a position where you have forgotten your password, please click on the forgotten my password link.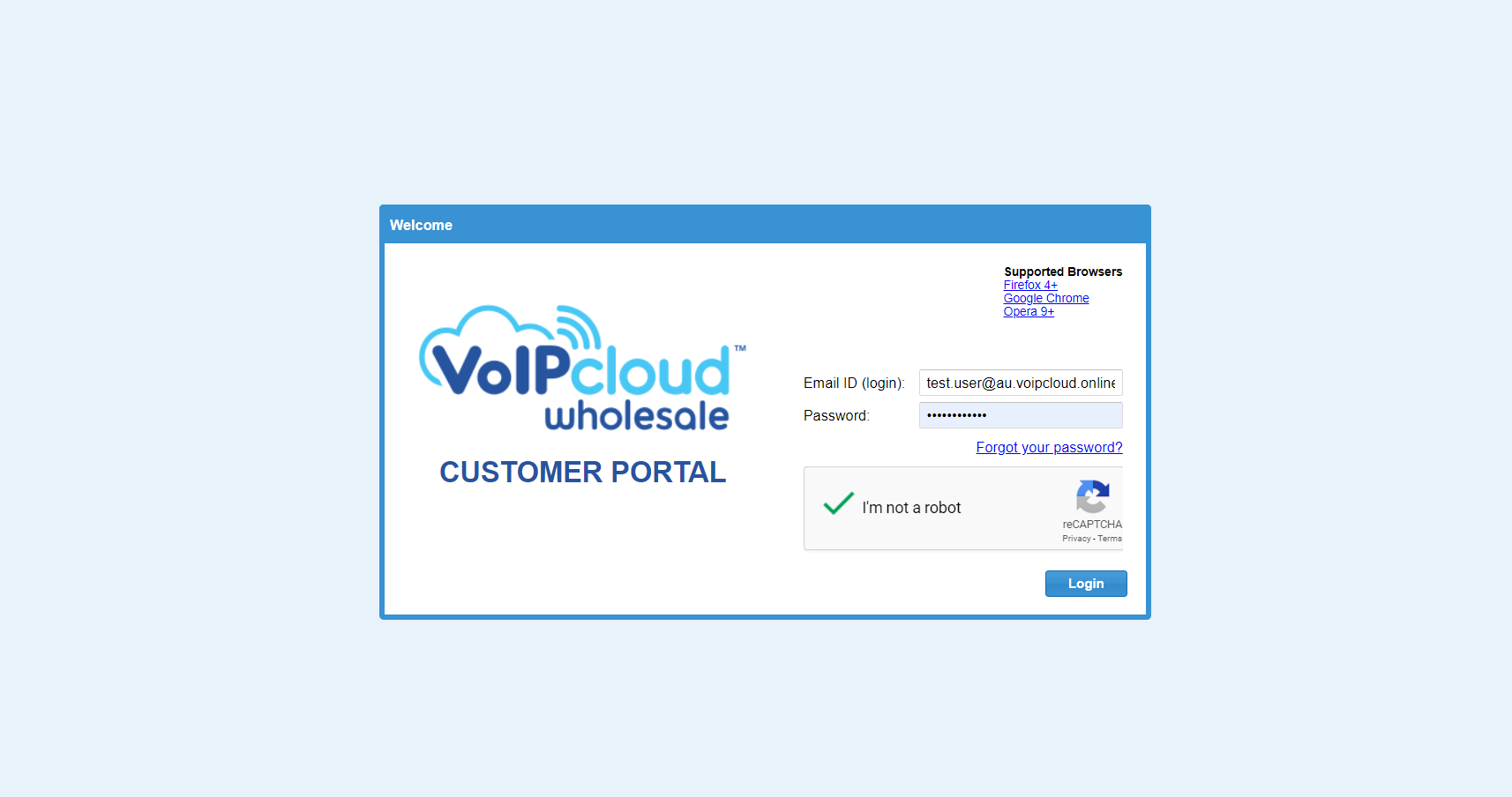 Once you have successfully logged into the customer portal, click on the Porting tab at the top of the screen, and click on the New Porting section. You will now be presented with a range of templates to select from. Select the appropriate country from the drop down list, then the type of number(s) you wish to port, for example, the geographic numbers template would need to be selected for a landline number porting application. Now upload a recent invoice from your current service provider who host the number(s) you wish to port, and start to complete the Application Details window on the right of the screen.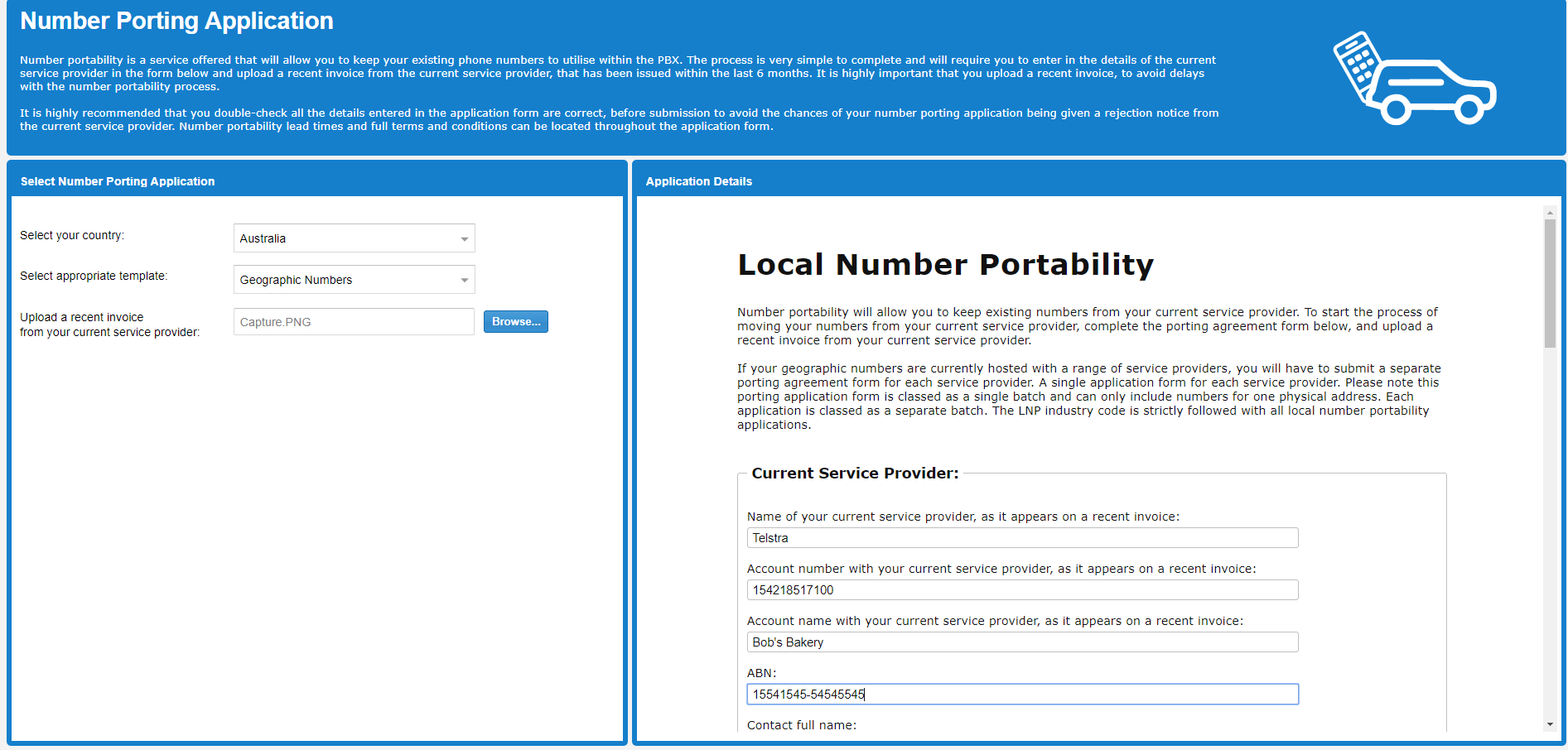 Within the details entered on the right side of the screen ensure that they are identical with the information on the invoice from the current service provider uploaded. Additionally, it is essential that the porting agreement application is read fully, so that the correct porting category is selected, for the numbers you wish to port over. Failure with ensuring the correct details are entered on the porting agreement application, could result in delays or rejections with the porting of your number(s) to VoIPcloud. Finally, when you are happy with the details you have entered, and have read the porting terms and conditions, accept and submit your application.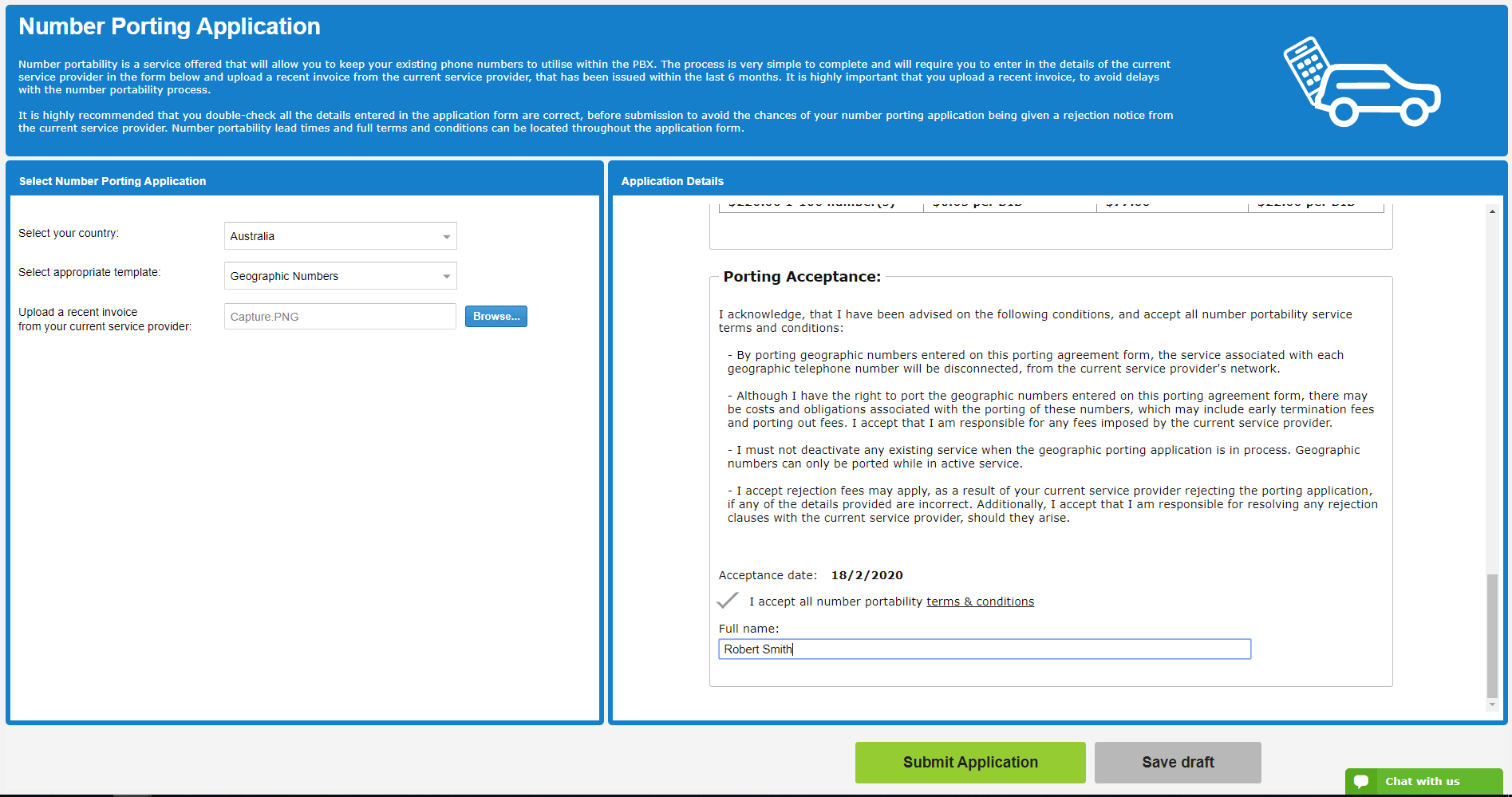 Monitoring your porting application

When you have submitted your porting agreement application, you will be able to track the progress of the application from the My Porting section. The porting department will place regular updates as the application progresses through the various stages of the relevant porting regulatory codes, via the comments of the My Porting section.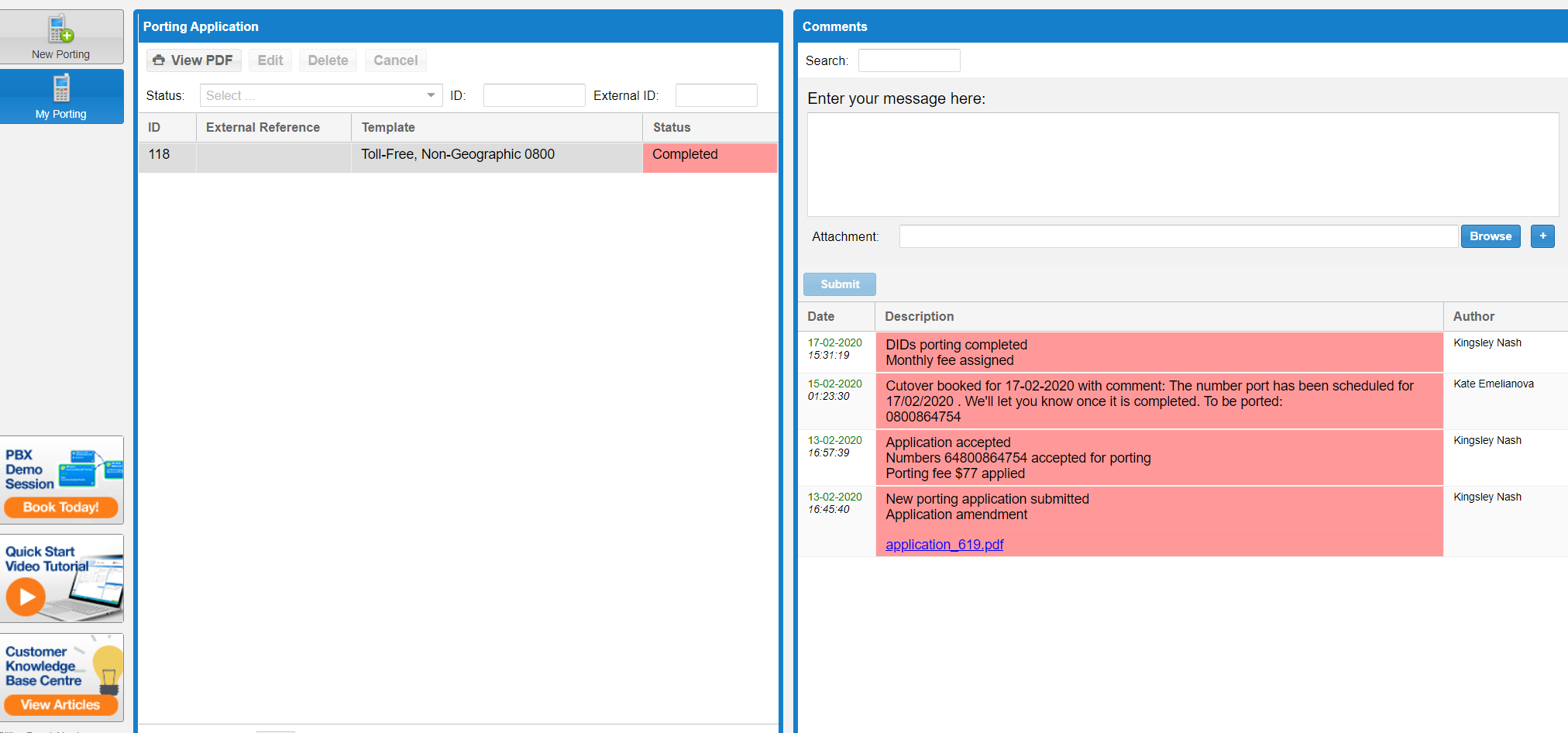 Placing comments to our porting department can be submitted from the same My Porting section. If you wish to request the latest status for your application, or the porting department have asked for further information, you can enter your reply and submit your response directly to the porting team, using the comments window.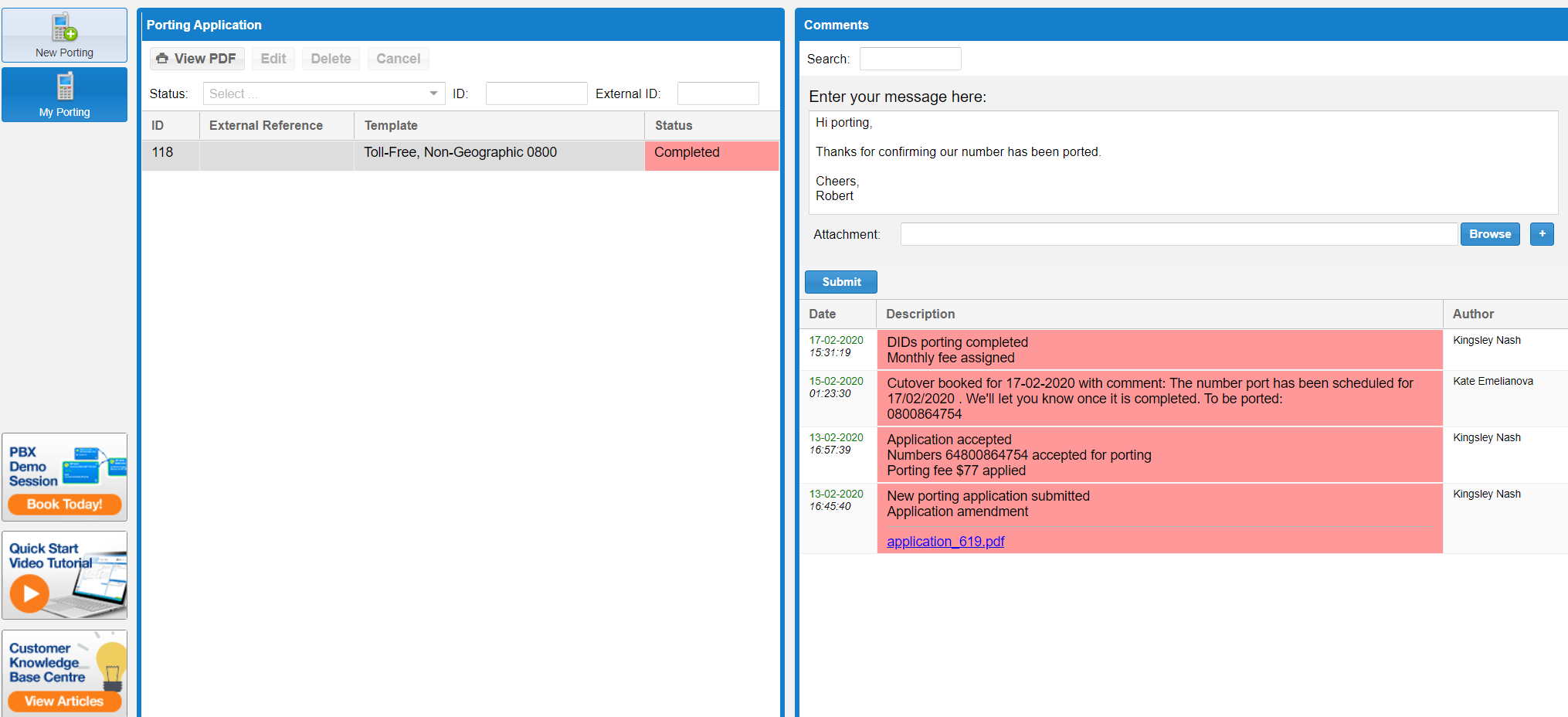 Lastly, it is highly important that you configure the numbers entered in the porting application within your PBX tab, once our porting department has confirmed the application has been submitted, and the number(s) accepted for porting. Please refer to our article on Pre-Number Porting Configuration for further guidance.