Porting a number to VoIPcloud Wholesale will require an account, once you have a registered account please login here: https://au.voipcloud.online/customer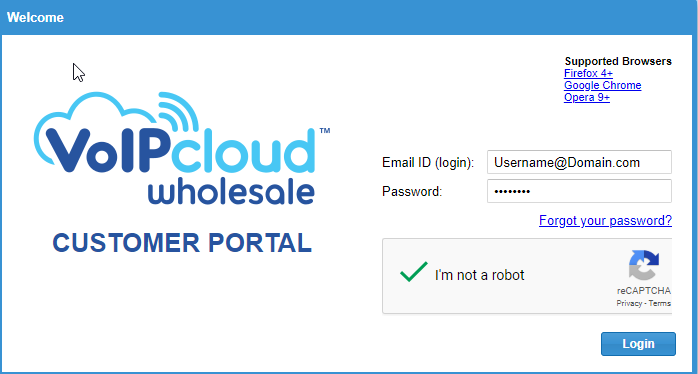 To submit a porting application through your account, Navigate to the "Porting" tab.





The first thing you will need to do after opening your porting tab is to select the country of origin for the number you are intending to port.





In this guide we will be selecting 'Australia'.
Once you have selected your location, we need to know what type of number you are porting.





The 'Browse' drop down below this section is where you will need to attach a recent bill showing your name/business name matching the details provided to VoIPcloud when creating your account, this will also need to include or show the address of the business/premises as well as the numbers you are intending to port to VoIPcloud.

(This is not necessary however if supplied and the details are correct it can greatly improve the time required to port your number.)


NOTE: For reasons relating to emergency services we are unable to proceed with a porting request to an address of a P.O Box and a valid address of a building or other premises must be provided.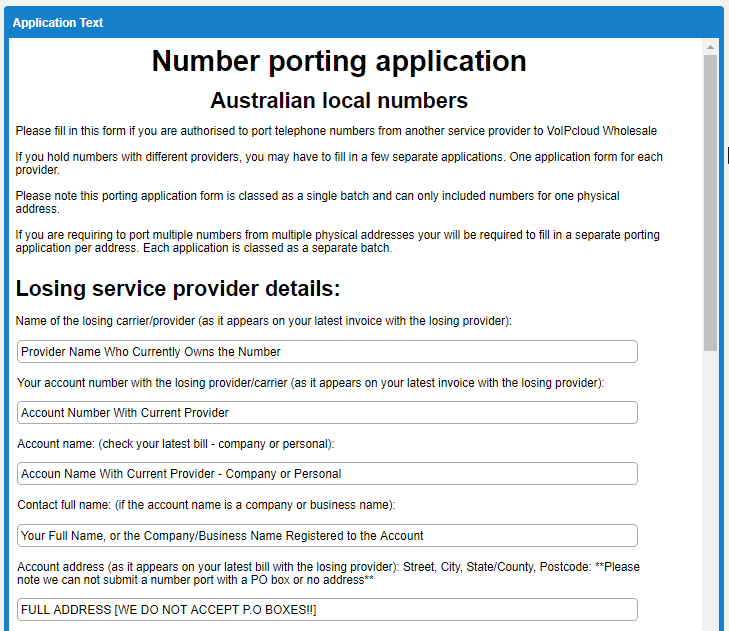 After you have supplied the above details now you need to specify the numbers you are porting,
again please ensure that the numbers are 100% correct before moving on, and that they match the bill supplied (if you submitted a bill with your application).
See below, we will be porting a number from Melbourne (Area Code 03).

When selecting a Preferred Cut-Over Date, please always select 'ASAP' unless you have a specific date and time required for the porting process that is in the future.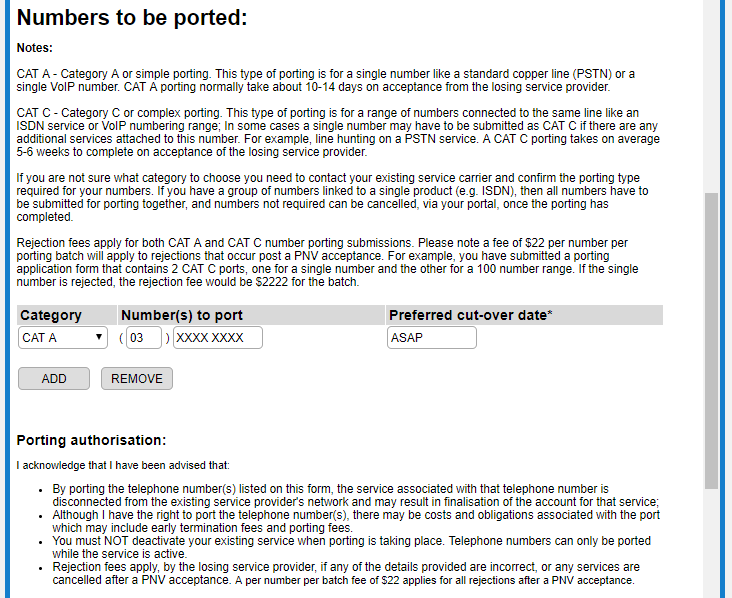 You will then be required to agree to the terms and conditions after reviewing the pricing of the port request and digitally signing your full name.
You can also choose to port in a number range or a complex service. In this instance you will need to drop down the "CAT-A" drop down menu and select "CAT-C" CAT C port requests would be required for number(s) were additional services are attached, like line hunting, or ISDN services etc. If you are unsure on the category required feel free to contact our porting team. 
(Can port up to 1-100 numbers in one CAT-C Request) 



For each new port, you will be required to click "ADD" to create a new blank field for entering in the number(s) you would like to port. Please note you can only submit a single CAT A per porting application form. 
1 number (CAT-A) being ported into VoIPcloud is a once of fee off $33.00 and a recurring monthly fee of $0.65.
1-100 (CAT-C) numbers being ported into VoIPcloud is a once off fee of $220.00 and a monthly recurring fee of $0.65 per number you ported.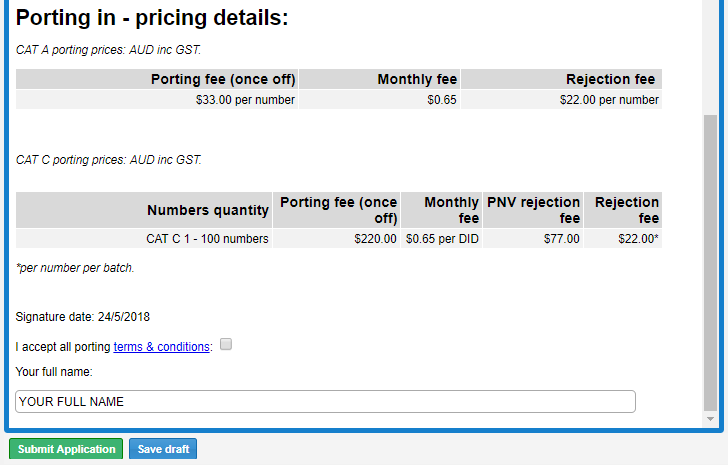 Should there be any issues with the number causing the porting request to be "REJECTED" there will be a fee charged to your account in the amount of $22.00 per number for a CAT-A number port, or for a CAT-C port request the rejection fee will be either $77.00 if rejected at the PNV stage, during initial checks (address, owners name etc.) and if rejected after a PNV acceptance, due to a service being removed or changed during the port process, there is a fee of $22.00 per number per batch.
To prevent this from occurring ensure that the details you provided are correct and true or services are not changed or cancelled with the existing service provider. If you are still concerned get in touch with our porting team before lodging your request.
Should you like to check on the current progress of your submitted port please check "My Portings" tab shown below.



Finally, you will receive a cutover date and time from our porting team once the request has been accepted by the losing service provider. Please make sure the number(s) are configured inside your PBX tab and as of the cutover date and time the number(s) will be live.