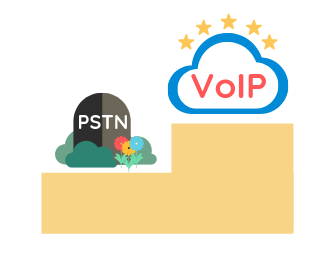 Replacing the corporate communication system can be a daunting prospect. As long as the previous telephone system continues to perform, we tend to prefer not to touch it. This is an understandable mindset. However, situations change and whether you wish it or not, it's time to think about change.
Most corporations in Europe have already completed the transition or are completing the transition over to VOIP in the coming years. Switching from legacy telephone system to VoIP PBX is a way to future proof your business in the new communications environment
Why switch to VoIP?
One of the key North American telecommunication providers: Verizon — have stopped providing ISDN to new business customers in 2015. A similar trend is currently happening in Europe. By 2019 the key suppliers like Deutsche Telecom, BT, France Telecom (Orange) and Telecom Italia will stop providing ISDN lines. Telecommunication providers have proclaimed complete end of PSTN and ISDN services over next 10 years.
The message is clear: PSTN and ISDN technologies have currently become obsolete, transition is inevitable. Besides, an out-of-date telephone system is one in every of the most important obstacles holding your business back from growing.
What are the benefits of switch to VoIP?
Significant savings on call rates as well as international calls along with free calls between offices (including international offices).
VoIP systems are less complicated to install, set up and troubleshoot. they can also be managed via a web-based interface.
They eliminate expensive to maintain hardware like media gateways because the whole VOIP system can be hosted in a virtual or a Cloud-based PBX and use softphones or SIP phones.
VoIP systems are simple to scale. They have the flexibility to dynamically add and take away numbers, users and devices.
VOIP systems afford mobility. End users and staff can be reached on the same telephone number on multiple devices regardless of where they are. The workplace can be moved around without having to change the contact number or pay for call forwarding
Looking for a reliable VoIP provider? Sign up at VoIPLine Telecom and get 14-Day free trial to try the best features of our Hosted PBX phone telephone solution.
[[title=Start Switching from PSTN to VoIP | VoIPLine Telecom New Zealand]]
[[description=By 2025 EU and the USA will move from PSTN to VoIP. The longer you stay with PSTN the more difficult it will be to move to the new standard.]]
[[hreflang-AU=https://www.voipline.net.au/blog/article/360000943716-start-switching-from-pstn-to-voip]]
[[hreflang-NZ=https://www.voipline.co.nz/blog/article/360000934215-start-switching-from-pstn-to-voip]]
[[hreflang-UK=https://www.voiplinetelecom.co.uk/blog/article/360000899195-start-switching-from-pstn-to-voip]]