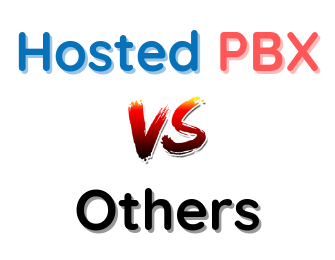 You may be aware of the technological edges of hosted PBX systems or how a switch to VoIP can help your organization to leverage unified communications tools.
However, how will a hosted PBX system impact other parts of your business?
From a strictly business strategy perspective, there are variety of advantages in selecting hosted PBX services over other kinds of business phone systems.
1. Simplicity
The more varied your business's voice communications requirements are, the more you'll enjoy the simplicity of hosted PBX solutions.
Hosted PBX solutions allow organizations to bring all of their locations and phone lines into a web centralized management portal.
This includes your on-site desk phones (or soft phones), company or employee-owned mobile devices, contact centre phone lines, and your conferencing lines.
Most hosted PBX portals are graphical in their interface and therefore an IT administrator or a savvy power user will be able to make the required changes fairly easily.
2. Flexibility
Hosted PBX systems enable organizations to pay only for the services they use. There is no wasted capacity.
Where previously, changes to an on-premises PBX required a dedicated PBX engineer on site or a call out from the service provider, a hosted PBX solution allows the customer (without requiring technical knowledge) to login to their portal and change the call flow or call routes as required.
Furthermore, making sure you select a provider that provides a 24/7 support service will allow you to take your communications system internationally and enable you to entertain a remote workforce operating in different time zones.
3. Cost
Unlike another technologies, hosted PBX is a comparatively low-risk and low-cost investment.
There is no longer a requirement to have a dedicated phone line connection to each of your offices, No longer a requirement to have an on-site PBX to handle the distribution of calls at each office and no longer a requirement to have an expensive dedicated PBX engineer to administer the system.
Because of the reduced infrastructure requirements, carriers and service providers are able to provide a comparatively cheaper service to end businesses.
They end up leveraging the improved internet connections of the modern telecommunications environment and also the business IT team for administration of the voice services.
4. Global Scalability
While traditional on-premises phone systems and PBXs are scalable within the site they are installed in, attempting to bring an office or a remote user online may present challenges.
As hosted PBX services are digital, it allows for the adding of subscribed services or a new extension quickly, making it simple to add or remove a single user or an entire site.
5. Interoperability
For many organizations, going with a completely IP-based telephone system is not feasible.
While the bulk phones can be hosted on cloud-based hosted PBX services, businesses may find that they still require analogue services like a fax machine.
Through the use of ATAs (Analogue Telephone Adapter), a business is able to get analogue devices that are business critical to operate on hosted PBX services.
When these analogue devices are used in conjunction with ATAs, hosted PBX systems no longer differentiate them from other hosted PBX extensions. The system will treat them the same and allow the sending and the receipt of calls to the connected analogue device.
6. Mobility
Mobile devices are turning into a tool which helps employees to work from the workplace, home, or the other location around the world.
Research reveals that today's workers expect a corporation that supports their preference for "mobile-first" and use their smartphone as a hub for work.
While it remains unlikely that mobile devices can actually overtake the desktop for the primary mode of getting work done, it's clear that mobile phone is vital.
Hosted PBX systems support high call quality on mobile phones, permitting your workers to expand their workplace to any place on the globe.
With extra communications options, they can access the chat messages, client information, and files on the go.
Hosted PBX: find Simplicity and efficiency in the Cloud
Hosted PBX solutions offer a plethora of advantages that translate directly into cost savings. The outsourcing of your telephone system also allows you to focus on your core business.
Hosted PBX solutions allow your organization to move towards adopting versatile cloud-based unified communications tools. Thus, allowing you to reap the rewards of Simplicity, Flexibility, Cost savings, Scalability Interoperability and Mobility.
VoIPLine Telecom is a leading supplier of Cloud-based phone services for organizations of all sizes. Together with hosted PBX solutions delivered via our own internally-developed platform, your business can stand to benefit on all the previously mentioned fronts.
Looking for a reliable VoIP provider? Sign up at VoIPLine Telecom and get 14-Day free trial to try the best features of our Hosted PBX phone telephone solution.
[[title=6 Benefits of Hosted PBX vs. Other Types of Business Class Phone Service | VoIPLine Telecom Australia]]
[[description=There are variety of advantages in selecting hosted PBX over other different kinds of business category phone services. Learn more!]]
[[hreflang-AU=https://www.voipline.net.au/blog/article/360000934235-6-benefits-of-hosted-pbx-vs-other-types-of-business-class-phone-service]]
[[hreflang-NZ=https://www.voipline.co.nz/blog/article/360000943776-6-benefits-of-hosted-pbx-vs-other-types-of-business-class-phone-service]]
[[hreflang-UK=https://www.voiplinetelecom.co.uk/blog/article/360000921915-6-benefits-of-hosted-pbx-vs-other-types-of-business-class-phone-service]]