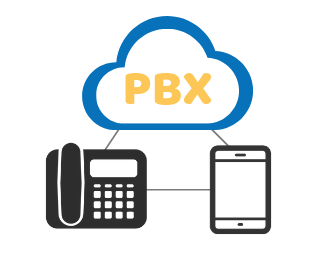 As enterprises migrate their phone system to the cloud, the most likely question on your mind as a business owner or IT manager is whether cloud Hosted PBX is for you or is it just a buzzword that would likely be replaced by the next innovation. You probably already have an existing phone system that is currently meeting your business needs and you are wondering whether there are any incentives disrupting your existing system for a new one.
The good news about cloud Hosted PBX is that it offers a plethora of advantages that will make that decision easy for you.
Here are some of the advantages of a cloud Hosted PBX:
Cloud Hosted PBX solution means that you do not need to invest money into complex hardware because your entire phone system is hosted and managed in the cloud. You only pay for the services you need which releases you from massive investment in capital expenditure and technical know-how required to setup your own system. From the Service Providers perspective, the cost is generally shared between thousands of users which significantly lowers the per unit usage/subscription cost for the customer when compared to the cost of fixed lines.
Cloud Hosted PBX is not limited to any geographical location which could lead to massive call savings for businesses like Call centers that handle large volume of long-distance calls. This means that your entire organization regardless of where they are in the world can consolidate their communication infrastructure into a single system, making calls from one branch to another seem like internal calls. The plethora of call plans which include unlimited calls to mobile numbers will lead to significant reduction in average cost per call.
2. Time Savings
On your typical PBX, office expansion entails ordering the hardware, booking an appointment for a technician to analyze your call flow requirements, before going onsite for installation. This can take anywhere from a few weeks to months. On a cloud Hosted PBX, setup is quick and easy. Provisioning is typically instant; implemented on a graphical user interface accessible via your desktop computer. Adding a phone line or 20 new lines typically takes a few minutes (or clicks) because it is all software based. You also save time on server maintenance and equipment upgrades because the service provider usually has a team of dedicated experts working 24 hours to ensure you experience no downtime.
For companies that do not want to disrupt their existing solution but want to enjoy the benefits of the cloud hosted PBX in a new city or branch office, you can still benefit from cloud Hosted PBX solution because it can be easily integrated with any legacy system or device with a few simple clicks. If you legacy system supports SIP Trunks/VoIP, you don't even need to buy any additional hardware. Cloud Hosted PBX can interface with any existing infrastructure giving you more flexibility on how you route your calls. Cloud Hosted PBX can be configured to allow users on both systems to call each other and for users of legacy PBX to make calls via cheaper VoIP routes. This can be beneficial if you want to keep your own in-house PBX but also have access to trunk lines at affordable prices, giving your office a wider reach.
4. Flexibility
Cloud Hosted PBX empowers you to connect from anywhere in the world using your VoIP phone, smartphone with software for VoIP, or desktop PC from any manufacturer. Now your employees can choose to work from home or even overseas at any time with the same office number using their preferred device. You can flip office calls from your desk-phone to your soft-phone and answer calls in-transit. The power of flexibility can also improve your reachability to customers meaning you can connect virtual or toll free numbers like 03/0800 numbers easily to your cloud Hosted PBX and receive the call whether you are on a remote site or in your office.
5. Advanced features
You are no longer limited to the features on your phone or in your local in-house PBX, even when you are using basic equipment. With cloud Hosted PBX, it is now possible to have access to all the features available from your service provider at no extra cost. These features such as Call Control, Voice Menu, Time Conditions, Call Recording, Queue, Wallboards and much more; are generally available on a web portal, which is constantly updated as new features are added and existing ones are upgraded.
6. High Quality Voice Calls
With improved Quality of Service (QoS) schemes, better compression rates and high internet speeds, voice communication via the internet has improved tremendously. Prior to the commencement of your VoIP service, there are various tests that can be carried out by your service provider to measure the quality of your internet connection in order to recommend the best VoIP solution for your location. Cloud Hosted PBX can now give you high quality calls over the internet with voice prioritization and other packet loss resilience schemes. Many service providers now have their own dedicated Fiber Broadband, 4G or ADSL networks which means that QoS schemes can be applied holistically from the central office to the subscriber guaranteeing excellent quality voice calls.
7. Scalability
Businesses grow and contract all the time. During periods of growth or contraction, you need a system that can scale up or down in proportion to your business requirements. With in-house PBX, you reserve resources and pre-allocate space for future expansion. Which means you pay for unutilized resources which may or may not needed in the future. Cloud Hosted systems can easily scale to meet your usage capacity as your demand increases or decreases. You can start small with a few lines and grow your users as your business expands. Seasonal businesses can leverage on the scalability of cloud hosted PBX by commissioning new lines just before a major event or festival and decommissioning them immediately the event is over.
8. Increased Redundancy and Disaster Recovery
Reliability is a major concern for organizations looking to switch over to cloud Hosted PBX systems. Unlike your old PSTN which relies on fixed copper lines susceptible to damage from vandalism, local hardware failures or power outages, cloud Hosted PBX depends on the internet and is usually managed by your service provider. Service providers typically have highly redundant infrastructure with dedicated resources and servers in different cities peering with multiple Transit providers around the world. Fail-over is automatic and software-based, which means that on event of a natural disaster, servers can be spun up in seconds, and redundant routes can be used instead of a single copper wire.
9. Real time monitoring and Report Analysis
Cloud Hosted VOIP systems give you access to real time statistics and monitoring of all the activities in your PBX including ongoing or missed calls, active or available agents, call rates, subscription costs through a web portal accessible on a desktop or mobile. As a business owner, you can analyze employees by performance, view instant call recordings and make informed decision just by viewing the various reporting tools on your PBX. The reporting tool not only collates data but also organizes and presents the information using statistical tools like mean, pie chart, bar charts, and other graphs that make usage analysis easy to comprehend.
10. Security
Cloud Hosted PBX solutions are generally more secure than in-house PBX. In VoIP systems, the security of the solution is the responsibility of the service provider which means that your service provider handles all the software upgrades, firewall and security patches. Your service provider has a dedicated team of highly specialized professionals working to make sure VoIP service is fully secure and protected. Even if your local network is compromised VoIP Provider like VoIPLine Telecom has algorithms in place to prevent large volumes of unauthorized calls.
Looking for a reliable VoIP provider? Sign up at VoIPLine Telecom and get 14-Day free trial to try the best features of our Hosted PBX phone telephone solution.
[[title=10 Benefits of Cloud Hosted PBX | VoIPLine Telecom New Zealand]]
[[description=Learn more about advantages of cloud Hosted PBX and how it can help growing your business and save a lot of money along with other great benefits!]]
[[hreflang-AU=https://www.voipline.net.au/blog/article/360000943836-10-benefits-of-hosted-pbx]]
[[hreflang-NZ=https://www.voipline.co.nz/blog/article/360000943816-10-benefits-of-hosted-pbx]]
[[hreflang-UK=https://www.voiplinetelecom.co.uk/blog/article/360000778635-10-benefits-of-hosted-pbx]]