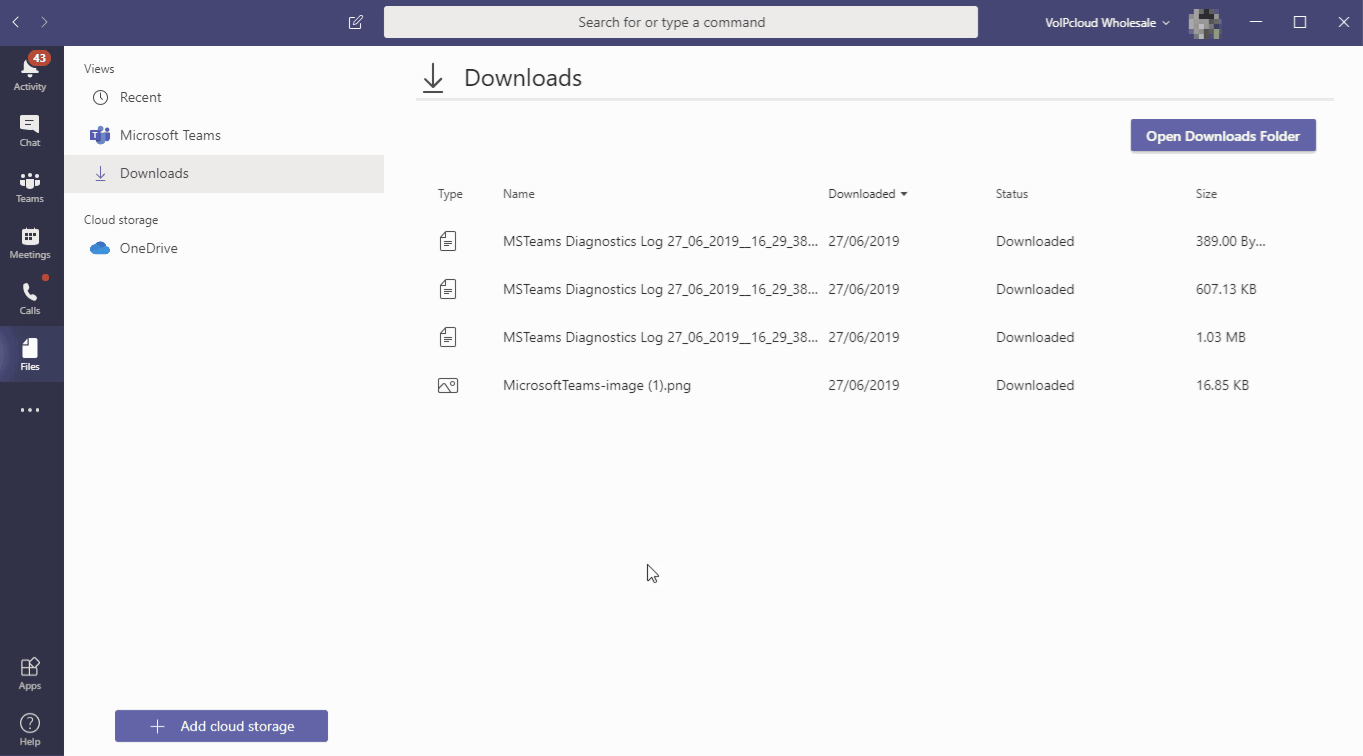 You can set up meetings and conferences using Microsoft Teams and VoIPcloud Wholesale. There are several options for meetings based on your requirements. This guide covers setting up Microsoft Teams meetings, joining Microsoft Teams meetings, supported hardware devices, and using the VoIPcloud inbound conference bridge.


Creating Microsoft Teams meetings
You can create Microsoft Teams meeting either using the Microsoft Teams client itself or through Outlook by creating a Teams Meeting.


Creating Microsoft Teams meetings via the Teams client
On the Microsoft Teams client, click on the Meetings tab on the left menu. This will open the calendar view and show you any upcoming meetings. To schedule a new meeting, click the Schedule a meeting button in the lower left.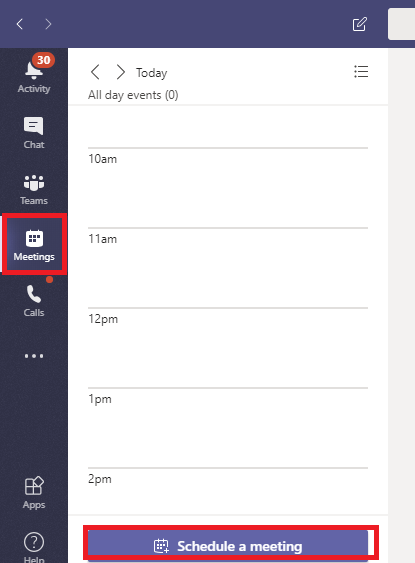 You will be prompted to give this meeting a name and add some details for this meeting. You can invite participants using the Invite people field in the upper right. You can enter a Microsoft Teams username or a person's email address there. This email address does not need to be a Microsoft Teams account.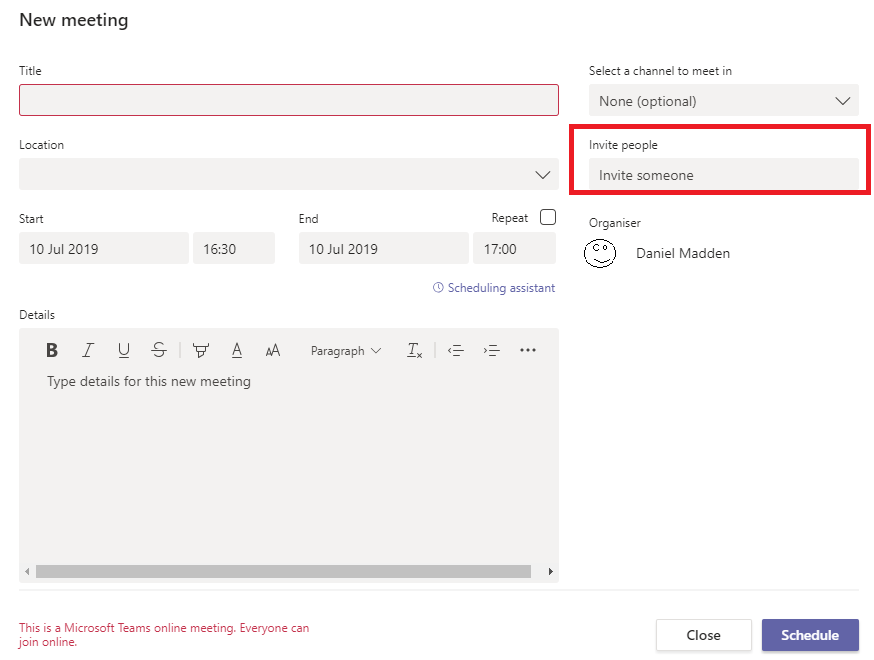 After clicking the Schedule button in the lower right, the meeting invitation will be sent out to all participants, with a link to join the meeting. You'll also see a confirmation page with the meeting details you previously entered. You can Edit the meeting or Close this page. 


If you created this meeting using a Microsoft Teams account which has an audio conferencing license, you will notice that this confirmation (and the meeting invitation) has a Microsoft Teams local number and conference ID beneath the Microsoft Teams Meeting link.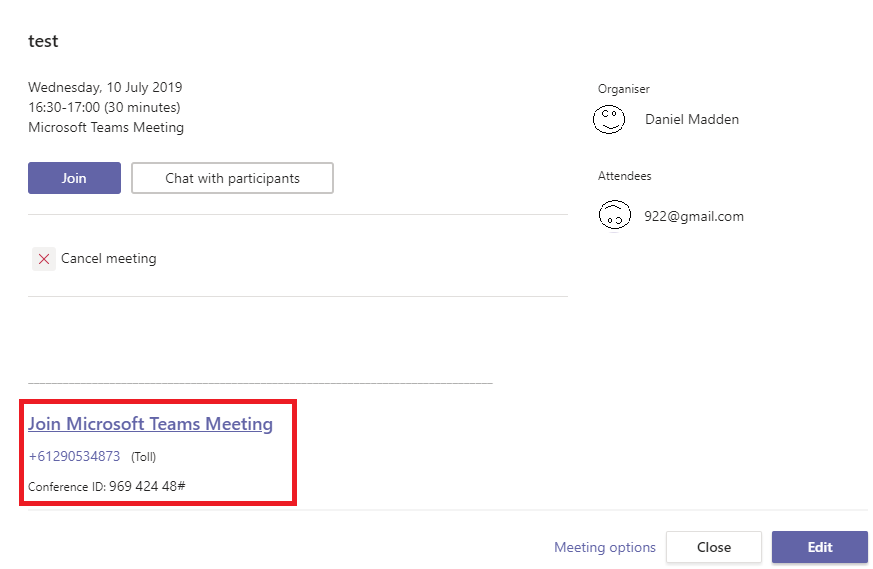 If you want to create a Microsoft Teams Meeting from Outlook instead, the steps are very similar. In the upper left corner of Outlook, click New Items and then select Teams Meeting from the dropdown menu.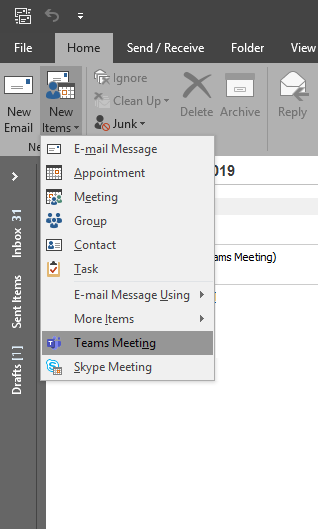 This will take you to Outlook's Meeting scheduler. In the To field, you will need to add email addresses that you wish to invite to the meeting. This meeting will need to be given a Subject in the Subject field as well.


The meeting date and time is selected below that. You can change the contents of the email invitation to include a description of the meeting. You will notice that the meeting invitation includes a link to Join Microsoft Teams Meeting. As before, if you have assigned a Microsoft Audio Conferencing license to the Office 365 Microsoft Teams user, you will see a conference number and conference ID here.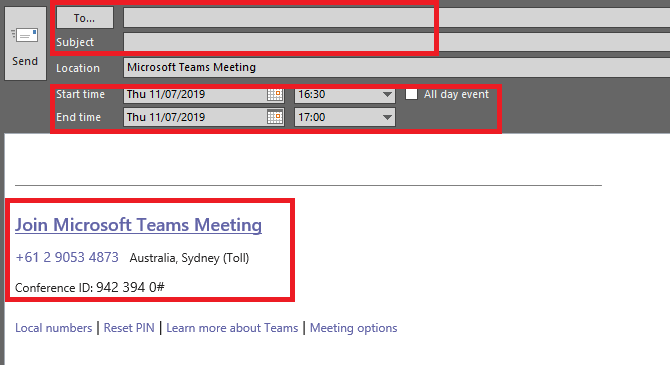 Microsoft Teams conferencing license requirements
The type of Office 365 license you need will depend on your conferencing requirements. If your only requirement is that Teams users can have a group call together, and PSTN calling is not required, you can create Microsoft Teams meetings without any audio conferencing licenses. Attendees will be able to join the meeting via the Microsoft Teams client and participate in the group meeting.


If you require external numbers to be able to call into the meeting, you will need the Microsoft Audio Conferencing add-on license assigned to the user that is scheduling the meeting. In this case, a Microsoft conference number and PIN will be automatically allocated to the meeting, and external callers can call into the meeting.


If your requirement is to have a meeting where external users can call in via a mobile or landline number, but you do not want to use Microsoft's conference bridge, you can configure an inbound conference bridge on the VoIPCloud Wholesale customer portal. See the below section Integration with VoIPcloud Wholesale's conference bridge for further details. This option does not require a Microsoft Audio Conferencing add-on license. Teams users wishing to participate in this style of the conference will require the Microsoft Phone System add-on and Direct Routing configuration.


How to join Microsoft Teams meetings
When receiving a Microsoft Teams meeting invitation, there will be an invitation link on it. Clicking this link will join that meeting using the Microsoft Teams client if you have it installed and opened. If you do not, it will prompt you to either download and install the application, or to open Microsoft Teams via your web browser and join the meeting through that. 

On the Microsoft Teams client, you can go to the Meetings tab on the left side of the screen and locate the scheduled meeting on your calendar. From there you can click the Join button in the upper right. 
Note: The exact locations of the Meetings and join buttons may differ if using the Teams mobile application or a Teams capable desk phones such as the Yealink T58A Teams edition.
If the user who scheduled the meeting has a Microsoft Audio Conferencing add-on license assigned to them, the invitation will also include a Microsoft conference number and PIN (called a Conference ID). The attendee can dial the conference number and enter the PIN when prompted.



The Join Teams Meeting link is still available for anyone who wishes to join via that instead. 


If using the VoIPCloud PBX Conference object, instead all you need to do is dial the phone number or internal number (internal users only) attached to that conference object. If you do not have a number assigned to it, you can order one on the Order services tab of the VoIPcloud customer portal.
Supported hardware devices
Microsoft Teams meetings support any device capable of running Microsoft Teams. This includes, but is not limited to the below. 

Desktop computers and laptops with Microsoft Teams installed.

Please check Microsoft's minimum hardware requirements here: https://docs.microsoft.com/en-us/microsoftteams/hardware-requirements-for-the-teams-app

Android and iOS devices are also supported (see above link).

VoIP phone providers such as Yealink also provide Microsoft-certified Teams capable phones: https://www.yealink.com/products_list_10.html
Please ensure your device is capable of supporting Microsoft Teams. You may need to consult your device's manufacturer for additional information.


Integration with VoIPcloud Wholesale's conference bridge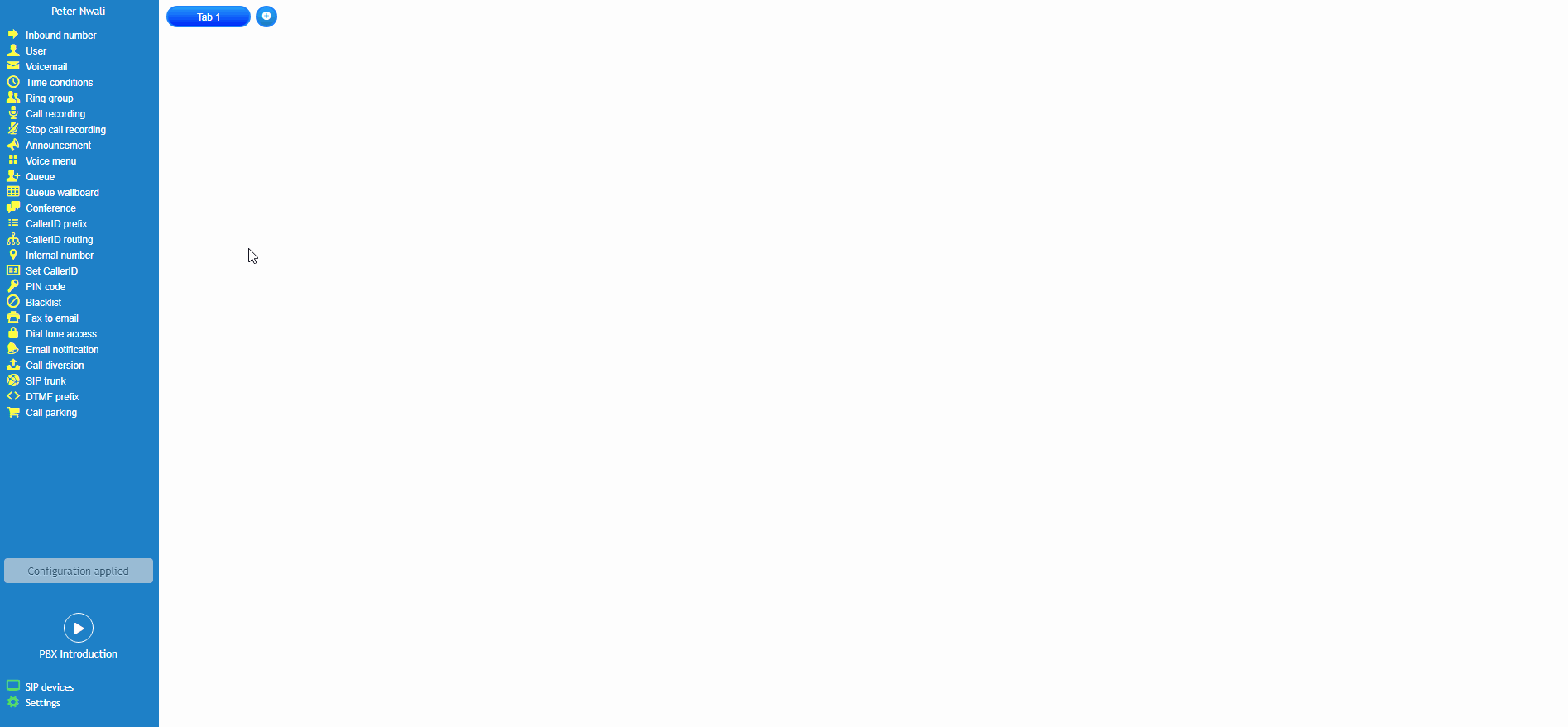 As previously mentioned, you can create and configure a conference bridge using the VoIPcloud Wholesale customer portal. This conference does not use the Office 365 conference bridge and therefore does not require any Office 365 Audio conference licensing.


There is no license required for a Conference object. Once connected to an inbound number(s), you will be able to allow people from the outside to dial this number and join the conference.


In order to include the virtual conference room in your call flow, you will need to drag a Conference object from your PBX toolbox, then connect to an inbound number object.


Next, you will need to configure the conference object, click on the settings icon in the bottom right corner of the object.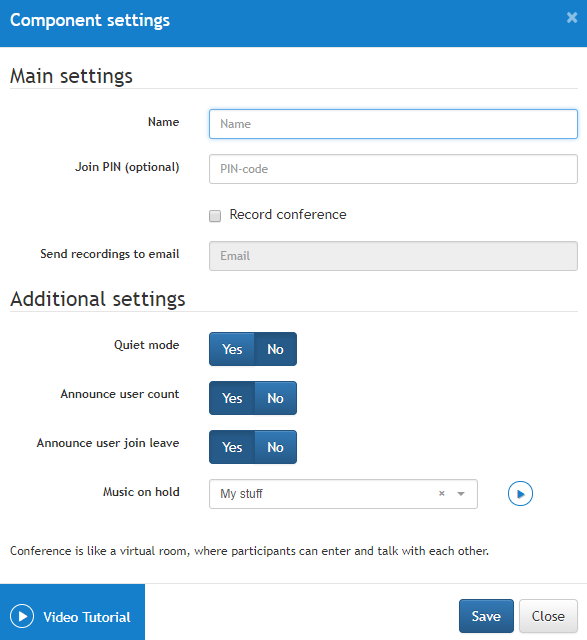 After you have configured this object, saved, and applied configuration, all attendees can join the conference by dialling the inbound number connected to the conference room object. If an internal number object was connected to the conference, all internal users will be able to join by dialling that if they prefer. 
Using your own number for Microsoft Teams audio conferencing
If you have your own number that you wish to advertise for conferencing, you have two options. You can port the number across to Microsoft to use as a service number. This way, you will be able to have meeting invitations automatically advertise that number. Both of these options will require you to have a Microsoft Office 365 audio conferencing license assigned to the user that is scheduling the meeting.


However, Microsoft does have static audio conferencing numbers which are shared between Office 365 tenants. This means that you could set up a diversion from your conference number to the Microsoft audio conferencing number and send out meeting invitations with your conference phone number, and the Microsoft conference ID (PIN). 


In order to do that, you will need to configure the call diversion object on the PBX page of your VoIPcloud customer portal.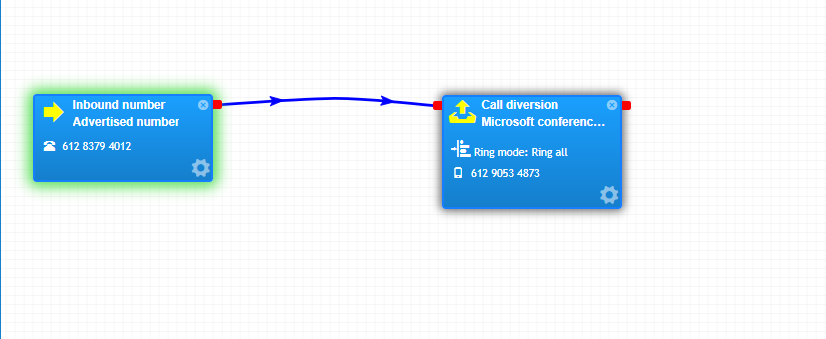 Please note that regular diversion charges may apply.


Diverting to a Microsoft audio conferencing number will require callers to provide the Microsoft conference ID/PIN. This is unique for each meeting that is scheduled. Please check the meeting invitation in Outlook or Microsoft Teams for the correct conference ID.


In addition, you may want to use Microsoft's meeting invitation template from Outlook to provide the conference ID straight away for attendees to use. 


If doing this, ensure you replace the Microsoft Teams audio conferencing number with your own conference phone number. Please note that in order to provide the unique conference ID to the caller, you would need to use the Microsoft meeting template and update the conference phone number each time.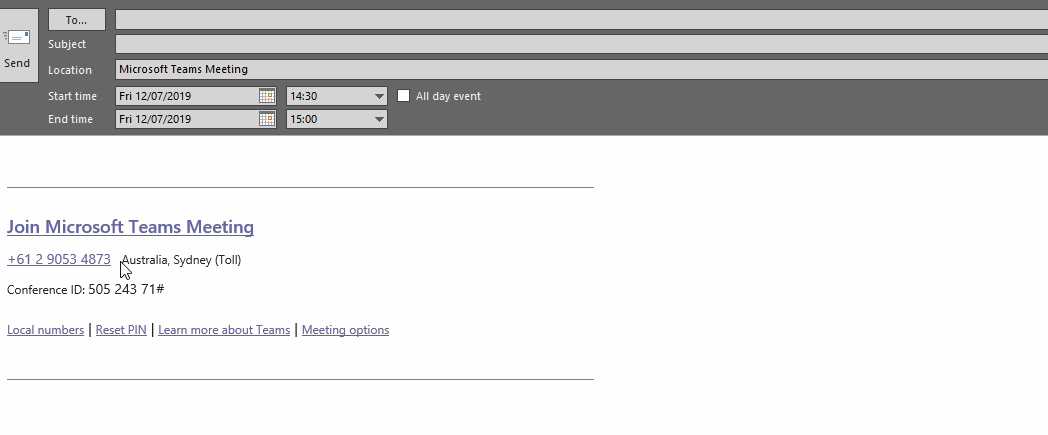 If you are using this method, in addition to changing the Microsoft audio conferencing number, ensure you change the hyperlink on that number by right-clicking on that number and clicking edit hyperlink


When done, click the Send button to send out the meeting invitation with your number visible on it. Should you require any assistance feel free to contact our support department by phone, email or online chat.