Introduction

At the end of this article, you will be able to configure a PBX Voicemail object within your call flow on the PBX tab. The article will also assist you with some common uses of the object within your call flow configuration. Should you need any assistance, feel free to contact our support department.
Configuring a PBX voicemail to email

PBX Voicemail object is a feature which allows you to prompt a caller to leave a message in the event that no one answers an incoming call. Once logged in on the customer portal click on the PBX tab. Then select voicemail from the toolbox menu on the left, drag and drop it onto the main configuration screen. Next, click on the settings icon.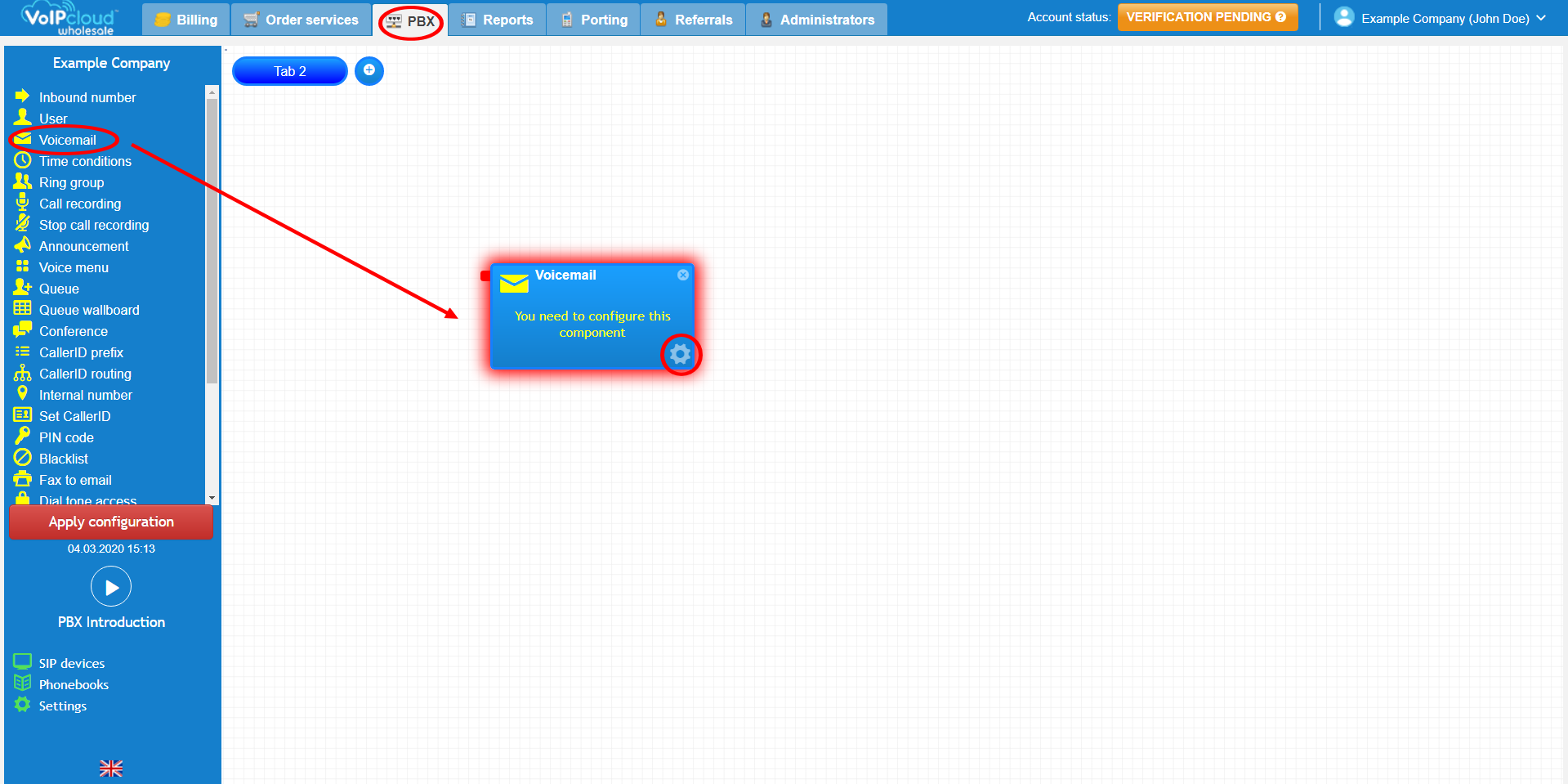 After that, you should enter a name and an email address to forward the messages. Also, it is possible to customise the greeting on the voicemail, you are able to upload a custom greeting recorded previously (clicking on the green button) or record a new greeting (clicking on the red button). Within the advanced options, you can create your message template which will be forwarded to the email address chosen. Finally, don't forget to save and apply the new configuration.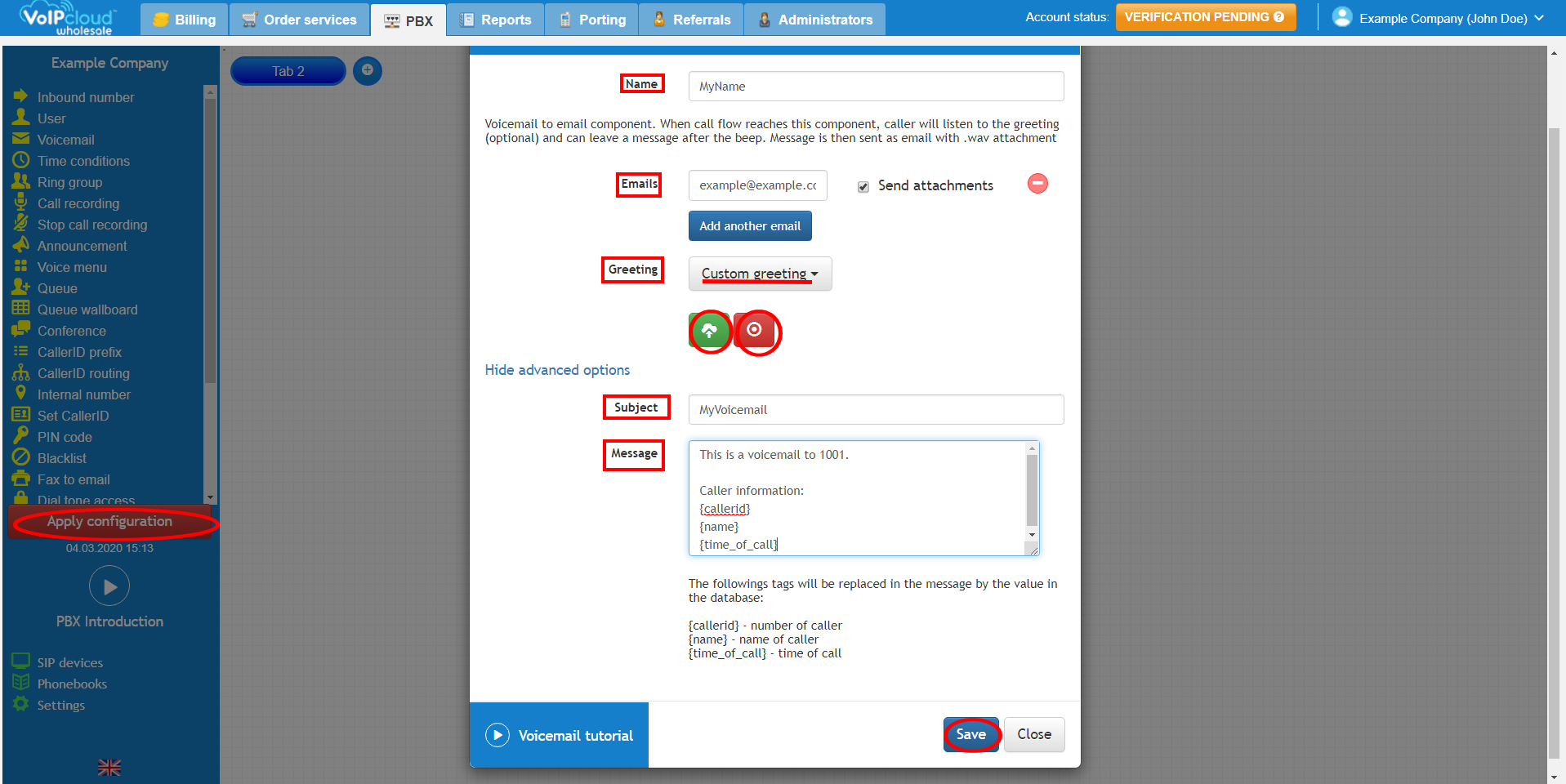 PBX voicemail usages
This scenario simulates a retail shop with the working hours from Tuesday to Sunday, 11 am to 10 pm, and the owner has decided to divert all calls outside, of standard opening hours to a voicemail to email service. A custom greeting has also been commissioned to alert callers of the opening hours. As displayed below from within the settings tab of the voicemail object, the business owner has uploaded the custom greeting.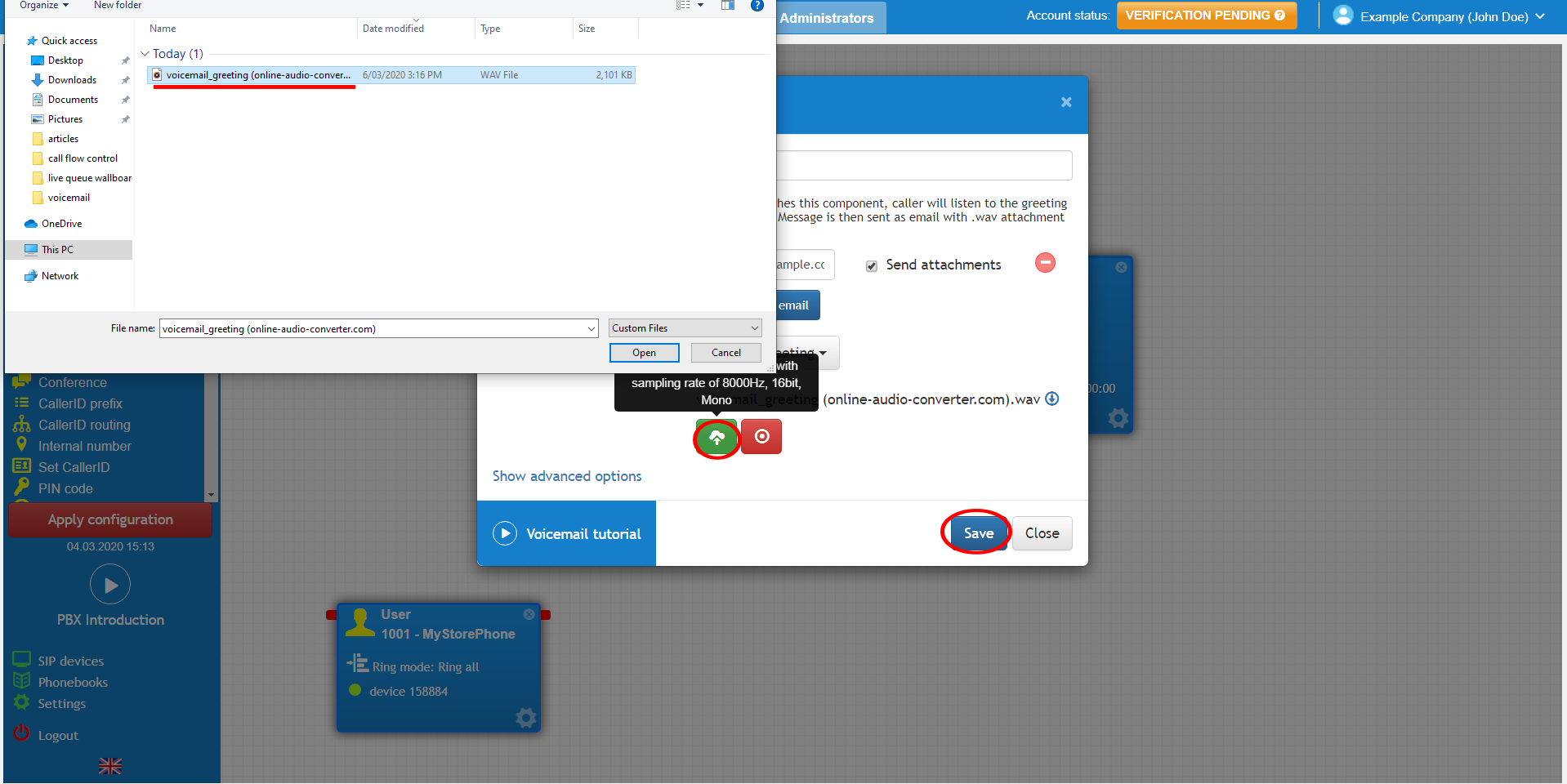 A time condition object has also been utilised within the call flow to set the opening hours. The final step is to include the out of hours voicemail object and ensure that the configuration has been applied.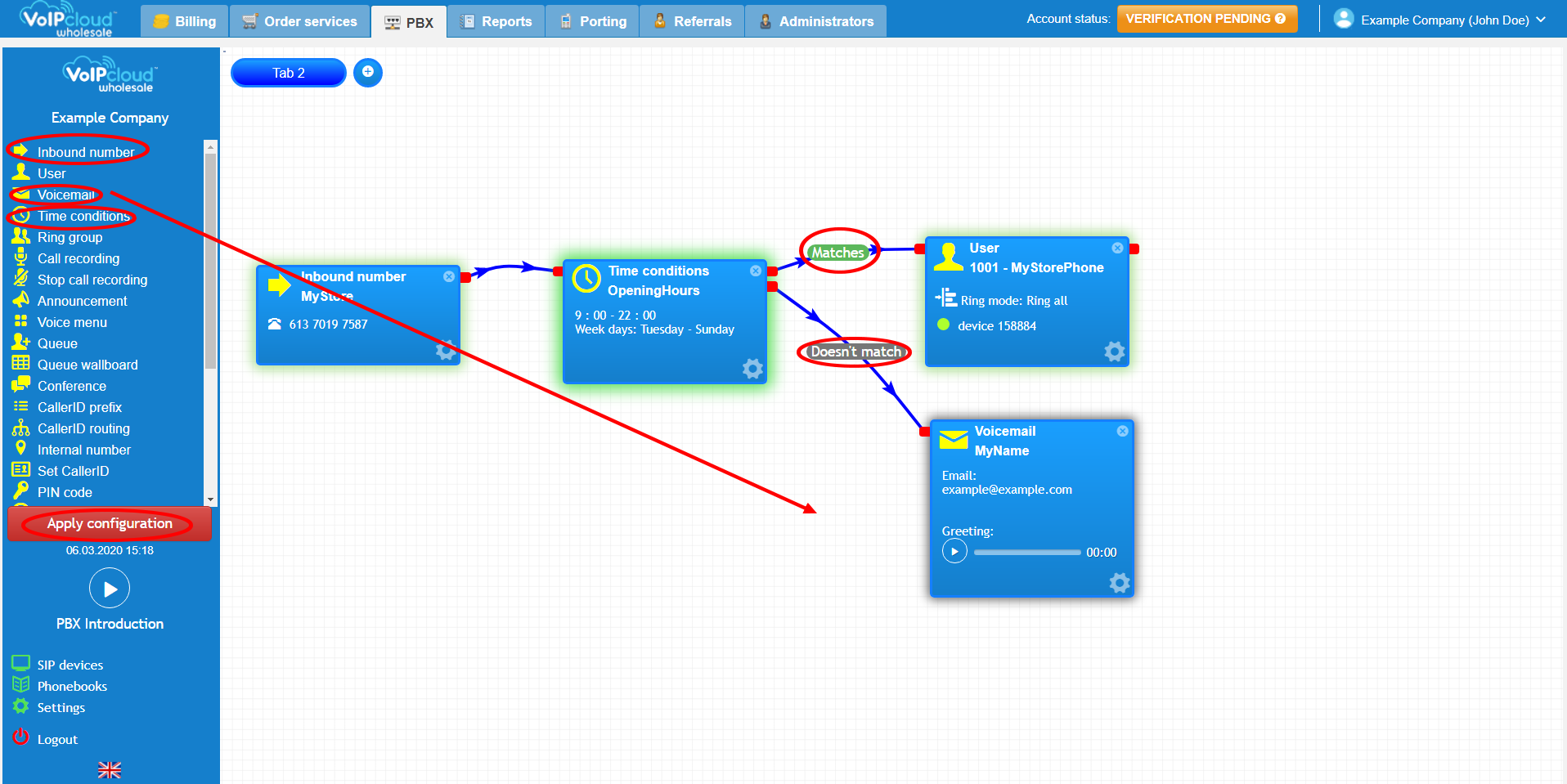 Watch this in action
The video below will show you a visual representation of the areas covered throughout this knowledge base guide.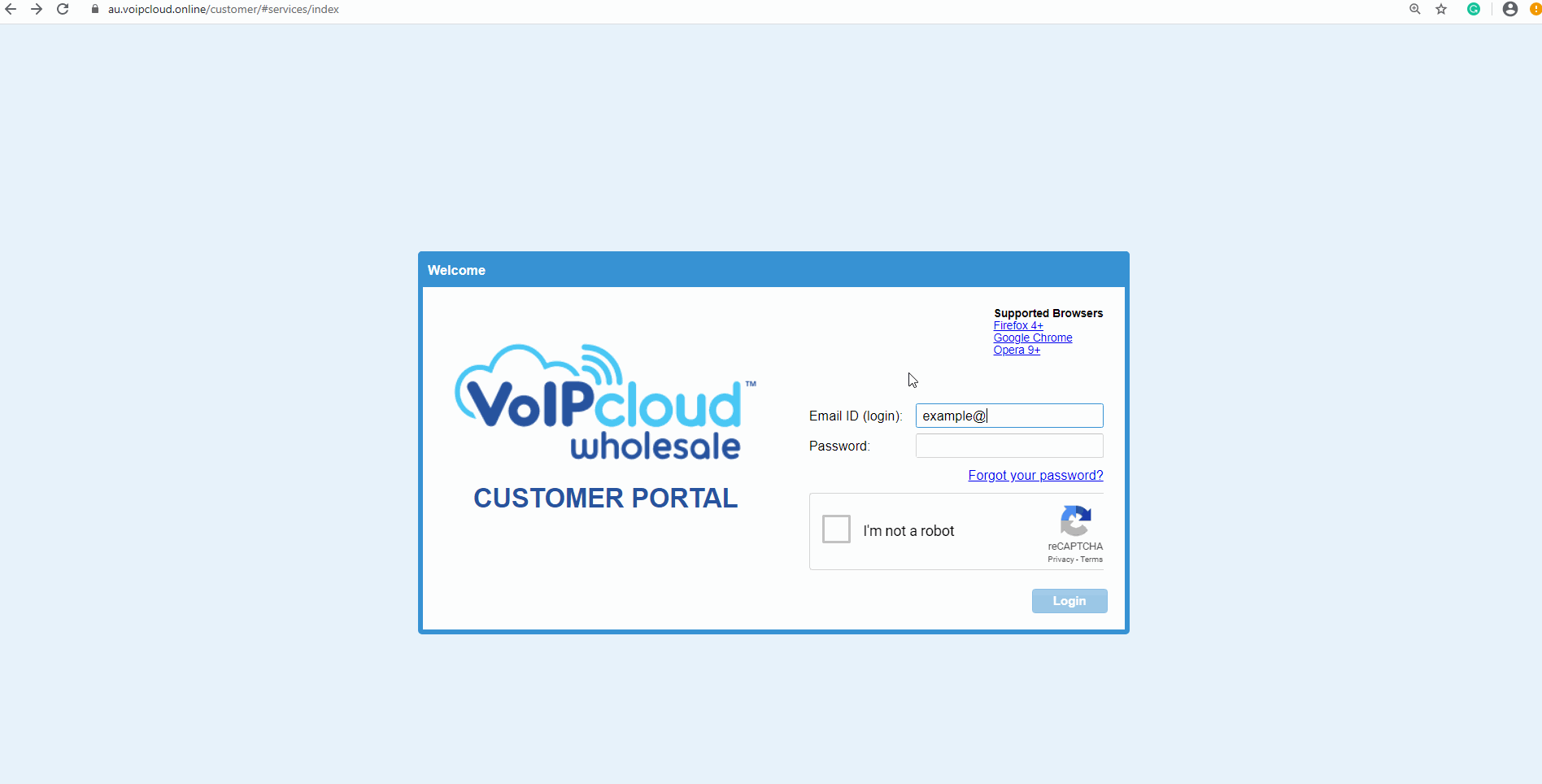 [[title=Enable Voicemail]]
[[description=PBX Voicemail object is a feature which allows you to prompt a caller to leave a message in the event that no one answers an incoming call. At the end of this article, you will be able to configure a PBX Voicemail object within your call flow on the PBX tab.]]