Introduction

This article helps you to configure the Cisco ATA device. The Cisco ATA device turns traditional telephone, fax, and overhead paging communications devices for greater cost-effectiveness. Customers can use IP telephony applications by connecting their analog devices to Cisco Analog Telephone Adapter (ATA).
Physical setup of a Cisco ATA
To set up Cisco Analog telephone adapters, connect the ports according to the image below as required for your application. For a single phone/device set-up, please use the socket "Phone 1".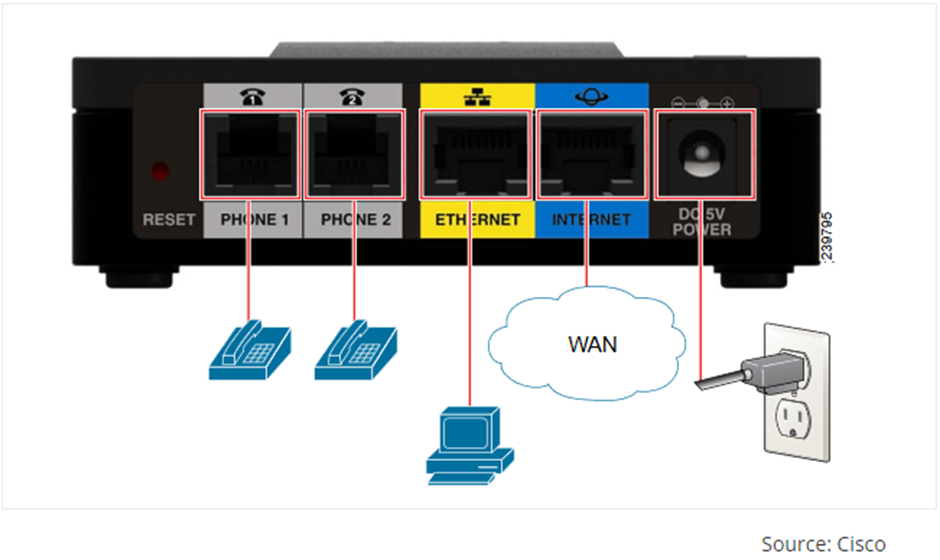 Port Overview
| | |
| --- | --- |
| RESET | Button to factory reset ATA |
| PHONE 1 | Line 1 for a PSTN device |
| PHONE 2 | Line 2 for a second PSTN device |
| ETHERNET | Connection to a network device after ATA (Not recommended) |
| INTERNET | Connection from a router/switch |
| POWER | Connection for a power adapter provided with ATA |
Configuring Cisco ATA for calls
Locate the IP address of the Cisco ATA device by using the command "arp -a" in the command prompt, and you can find a MAC address on a sticker at the back of the device.

In the browser (Chrome/Edge/Safari/etc), type the IP address in the address bar and hit enter.

Once loaded, use default login details as printed in the quick start guide supplied with the device.

Now go to the PBX tab in your customer portal, click on the respective SIP device and gather details.

Copy and paste the details between the Customer Portal and Cisco ATA Portal. Customer Portal Device screen Cisco Quick Start screen

From Customer Portal Device Screen
To Cisco Quick Setup

SIP Server

Proxy

SIP Login

User ID

Password

Password

Port

In the Proxy field after the SIP Server address, add a double-colon and then the port number

e.g. "https://test.com.au:12345"

Click on the submit button at the bottom to save the configuration.
The service is not online after submission
Click on the "Voice" tab in the Cisco ATA portal and select Line 1 on the left

Under SIP settings,

a. Change the SIP transport to TCP.

b. Change the SIP Port to 7060.

Under Proxy and Registration,

a. Verify the Proxy that it matches the SIP server address and Port from the Customer Portal.

b. Register is set to "Yes".

c. Register Expires is set to 120.